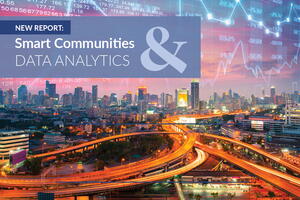 ICMA has partnered with SAS to develop a new report that brings the power of data analytics and smart community practices to local governments worldwide. Pairing the unparalleled ICMA network with industry leader SAS, the economic, environmental, and social benefits of smart community practices can be realized on a global scale. When activated, these practices help local governments make informed decisions across operational sectors such as public safety, energy, transportation, purchasing, public health, transportation, land use, water and wastewater, environmental quality, and more.
What's Inside:
Data and Decisions. Among the surge in smart community practices and data analytics, certain trends are emerging and becoming standard practice for local governments. This section captures some of these trends and provides insights for local government leaders and staff to consider when structuring or growing their smart community programs.
Local Governments Using the Power of Data Analytics. Data provide policy makers, managers, and elected leaders a foundation upon which to make decisions, allocate resources, and deliver services. Data also set a baseline of conditions against which progress toward policy goals and needs can be measured. This section of the report draws upon experiences of local governments in the United States and internationally who are seeing their operations become more efficient, processes become more transparent, and delivery of public safety and health services become more effective.
Looking Over the Horizon—Smart Communities and Data Analytics. The future of smart community and data analytics is dynamic, reflecting the growth of existing trends and responses to gaps identified in existing practices. The number of local governments adopting smart community practices will grow, as will their staffs' ability to collect and analyze data, to make operational changes, and to disseminate the data and outcomes. In addition to having more effective operations and informed residents, analytics can help communities become healthier, safer, and more efficient. This section of the report highlights a few things for public officials, managers, and others in the practice to keep an eye on such newer and cleaner real-time data, public/private partnerships, technology upgrades, and data integration.
Want to learn more? Attend the free webinar series: "Local Gov Data." This free four-part webinar series is designed to help local governments get a handle on data they collect.