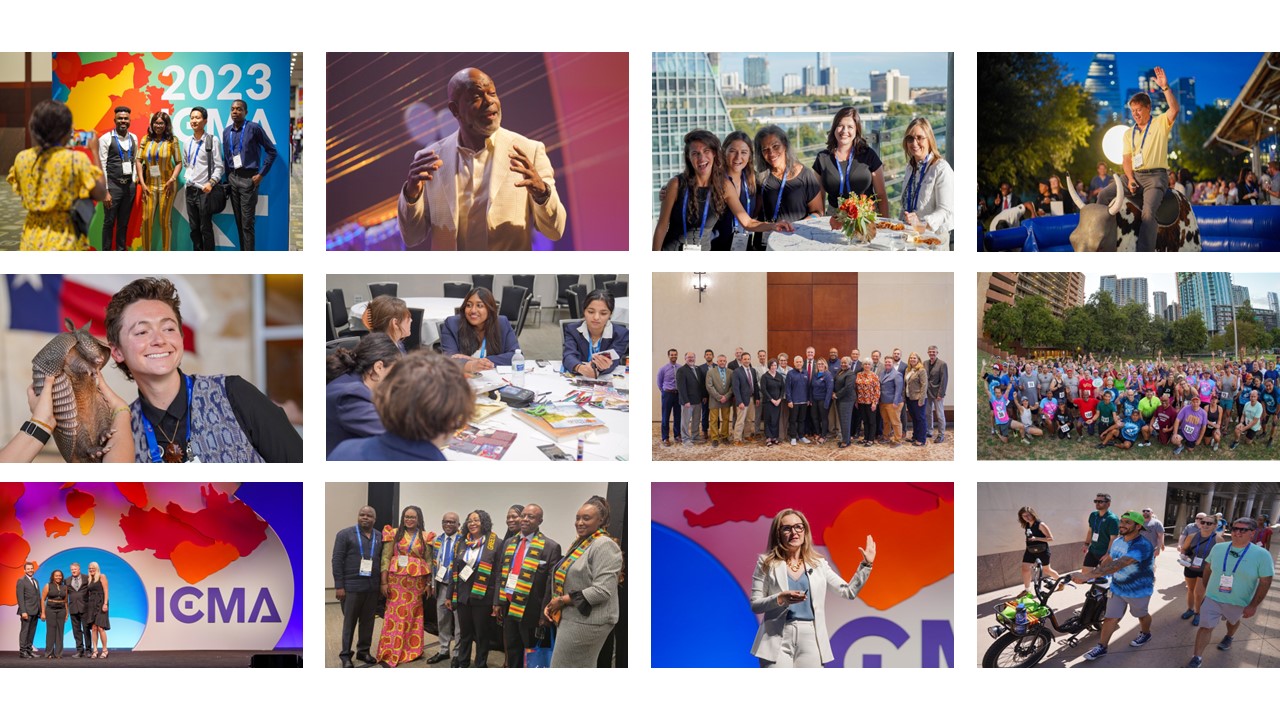 The ICMA 2023 Annual Conference, held September 30 through October 4, in Austin, Texas, was truly a record-breaking event! More than 5,500 attendees joined us from across the globe, the largest conference attendance in ICMA history. A total of 1,496 local governments worldwide were represented at the conference.
For their ongoing guidance, enthusiasm, and hard work, ICMA thanks the members of the 2023 Conference Planning Committee (led by chair Dave Burman); the 2023 Conference Host Committee (Susana Carbajal, Veronica Briseno, Stephanie Hayden-Howard, Cassandra Gallegos, Trisha Tatro, Katy Zamesnik, and Marti McCullough); and the many volunteers who helped to make the conference a huge success.
ICMA is also grateful to Title Sponsor MissionSquare, along with our sponsors (city of Austin, Forward, National Association of State Procurement Officials, and Texas City Management Association) and supporters (Amazon Web Services, Brightly, Hunden Partners, Model Solutions, Moss Adams, Oracle, Polimorphic, and Thought Exchange). In addition, 210 exhibiting companies joined us in the Exhibit Hall.
This unforgettable event wouldn't have been possible without our amazing roster of keynote speakers, game changer speakers, and education session presenters—almost 500 in total. Interested in speaking at #ICMA2024 in Pittsburgh? The Call for Presentations in now open. Submit your proposal by December 1, 2023 for consideration.
Whether or not you were able to join us in Austin, you can extend the professional development with ICMA On-Demand, which gets you unlimited access to 150+ sessions from the 2023 conference. On-demand access is included with in-person registration, but if you didn't attend, you can purchase ICMA On-Demand now.
A big emphasis of this year's conference was the "I" in "ICMA" and the association's new global engagement strategy. The international aspect of ICMA was everywhere at #ICMA2023, including 17 unique events geared toward global knowledge sharing, including a panel on African local government with representatives from Eswatini, Ghana, Kenya, and South Africa. Check out the ICMA global journey video unveiled at the conference.
In true Austin fashion, everywhere you turned at the Austin Convention Center—from the hallways to the general sessions—you were greeted with the sounds of live music. Watch the #ICMA2023 conference recap video, along with episodes of ICMAtv, to relive this year's event and immerse yourself in the electrifying atmosphere. And read on for more highlights from the 2023 conference experience.
Friday and Saturday
Even before the official conference kickoff on Sunday, so many activities were already underway. The Assistants' Exchange was held on Friday, and Saturday included micro-certification courses, Local Government Management Fellowship orientation, a gathering of the new class of the Leadership Institute on Race, Equity, and Inclusion, an electric bike tour, and a multitude of education sessions. Attendees raved about the Saturday Evening Reception at the Austin Public Library, especially the gorgeous sunset seen from the rooftop overlooking Lady Bird Lake.
Sunday
Bright and early Sunday morning, runners and walkers enjoyed the #ICMA2023 5K, while other attendees gathered for pickleball, micro-certifcation courses, committee meetings and group get-togethers, and speed coaching.
You could feel the excitement in the air Sunday afternoon for keynote speaker Emmitt Smith, Pro Football Hall of Fame running back, bestselling author, and entrepreneur. Sharing personal anecdotes about his early days in football and his path to success, Smith talked about how he learned to adapt to change, overcome obstacles, adjust his mindset to achieve his goals, and function as a member of a winning team.
Following the Sunday general session, attendees made their way to the welcoming reception in the Exhibit Hall filled with more than 200 exhibitors, where they experienced some of the great aspects of Austin, including southern eats, live music, the Texas longhorn himself, the Alvies boot party, interactive experiences, product theater sessions, and more.
Monday
We're all familiar with generational stereotypes, and according to our Monday morning keynote, multigenerational expert Lindsey Pollak, these stereotypes tend to rear their ugly head whenever a new generation enters the workforce. "For the first time in history, we have five generations in the workforce. We must view generational diversity not as a problem to overcome, but as an opportunity to embrace." Pollak demonstrated that by embracing generational diversity in the workplace and seeing it as an opportunity rather than a hindrance, we can all work toward becoming multigenerational leaders.
Tuesday
The hybrid workplace is here to stay, and Erica Dhawan, our Tuesday morning keynote, gave us innovative strategies for building a culture of trust and empathy—even remotely—to ensure authentic engagement with our teams. Her presentation, "Get Big Things Done: The Power of Connectional Intelligence," brought the audience to its feet to learn some Bollywood dance moves as an example of connecting and engaging.
Everything's bigger in Texas, including the attendee experiences! At the Tuesday Night Event, attendees celebrated the last night of #ICMA2023 at the Palmer Events Center, enjoying authentic Austin food and drink, dancing the night away to the live '80s band, and trying out the many activities. Our personal favorite—the mechanical bull.
Wednesday
Our compelling closing keynote, Dr. Samuel Ramsey, inspired the audience with the story of his path to becoming a celebrated entymologist, his ground-breaking fight to save the honeybee, and breaking barriers in the scientific community as a young, Black, queer graduate student. Truly a gifted storyteller, Dr. Ramsey's keynote address, "You Can and You Will: Finding Resilience on the Path to Success," demonstrates how anyone can make an impact through resilience, creativity, and ingenuity.
See You Next Year!
Thank you again for a fantastic #ICMA2023 that we'll not soon forget. Mark your calendars now and plan to join us for #ICMA2024 in Pittsburgh/Allegheny County, Pennsylvania, September 21–25, 2024!
New, Reduced Membership Dues
A new, reduced dues rate is available for CAOs/ACAOs, along with additional discounts for those in smaller communities, has been implemented. Learn more and be sure to join or renew today!