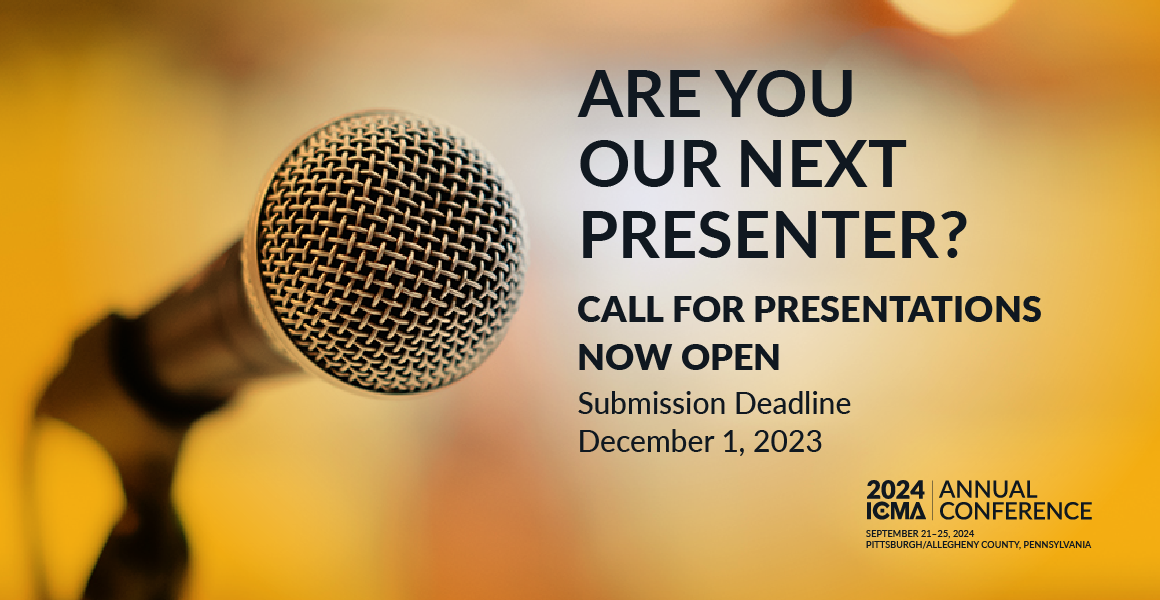 ICMA is accepting proposals for the 2024 ICMA Annual Conference in Pittsburgh/Allegheny County, Pennsylvania. Submit your most innovative and "how we did it" case studies, insights, and workable strategies that address the local government management challenges you face every day. To be selected as a presenter for this premier event for local government professionals worldwide, session proposals must be submitted by Friday, December 1.
A focus on, or inclusion of, small community and international perspectives is encouraged, including a diverse list of panelists that include representatives from small communities, as well as communities outside of the United States.
Presentations are sought on the topics of
Digital Agility: An exploration of the latest in digital technologies and data-driven decision-making.
Leadership: Adapting leadership approaches to navigate change and uncertainty.
Livable Communities: Addressing "wicked problems" and building community resilience.
Management: Future-proof processes, systems, and policies in local government.
Self-Transformation: Unlocking your potential, enhancing well-being, and creating positive change.
Service Delivery: Reimagining service delivery and public safety operations.
Thriving Economies: Promoting economic mobility and inclusive, sustainable development.
Submit a proposal for an educational session, discussion, and/or skill-building workshop based on the identified topic areas listed above through the website. Submissions received after December 1 will not be accepted.
---
Interested in sponsorship opportunities? Visit the website for more information.
New, Reduced Membership Dues
A new, reduced dues rate is available for CAOs/ACAOs, along with additional discounts for those in smaller communities, has been implemented. Learn more and be sure to join or renew today!