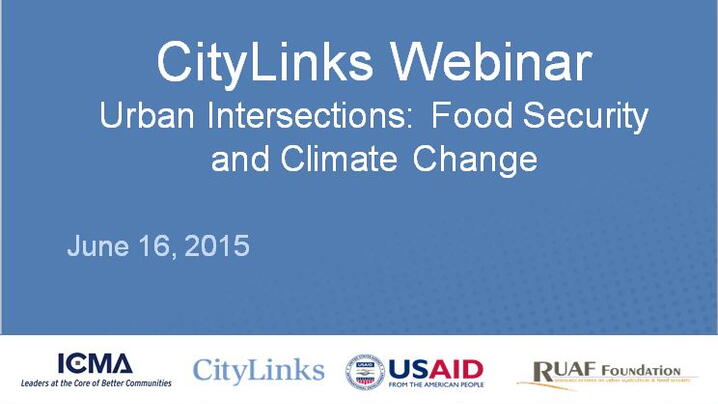 Last Tuesday, CityLinks hosted the second webinar in the Urban Intersections series on Climate Change and Food Security.
The team was joined by Rafael Tuts from UN-Habitat, Rubén Piacentini and Marcelo Tenaglia from the Municipality of Rosario, Argentina, Lauren Baker from the Toronto Food Policy Council, and Marielle Dubbeling from the RUAF foundation for a one hour panel discussion followed by an audience Q&A. Presentations examined the how urban food secuity is tied to climate change. 
Tuts discussed integrated planning and management strategies for urban food security and climate change adaptation. Piacentini and Tenaglia then presented a project that integrates urban and peri-urban agriculture and forestry into city climate change strategies at work in Rosario, Argentina. Baker finished off the panel by delving into the context, history, and priorities that shape Toronto's food policy.
Feel like you missed out? We've got great news! You can now watch the entire webinar (for free!) here. We'd love to know what you think, so let us know after you tune in!
To learn more about CityLinks, visit our website and like us on Facebook and Twitter. Please visit ICMA International's site for additional information about the projects ICMA implements around the world.
New, Reduced Membership Dues
A new, reduced dues rate is available for CAOs/ACAOs, along with additional discounts for those in smaller communities, has been implemented. Learn more and be sure to join or renew today!