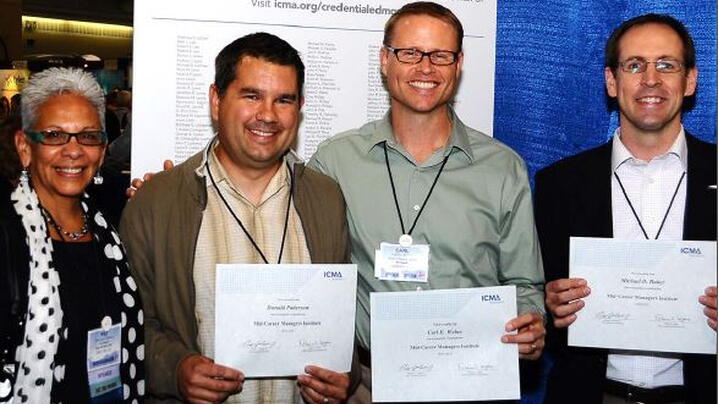 Receive a ceritifcate from one of ICMA's leadership and professional development programs listed below and you'll build your skills, add to your resume experience, broaden your career opportunities, and connect with a community of local government management professionals. Differentiate yourself in a competitive job market!
The Emerging Leaders Development Program (ELDP) is a two-year program featuring completion of the ICMA Essential Management Skills Certificate, a credentialed manager to serve as a mentor, and a Management Application Project participants design to demonstrate what they have learned. Open to those who are new to the local government profession or within their first three years of local government management.
The Mid-Career Manager Institute's (MCM) overall objective is to enhance and develop participants' leadership abilities and effectiveness. This is accomplished by providing: broader understanding of their responsibilities as leaders; perspective on some of the critical leadership and management issues facing mid-career managers; and understanding and awareness of concepts and techniques relevant to local government management.
LG 101 is a five-course (15-session) online certificate program, featuring completion of the ICMA Professional Certificate in Local Government Management. This interactive program goes back to the basics – grounding local government professionals in those key skills and practices that are the foundation of becoming an effective local government manager. Taught by experienced managers and local government experts, this certificate program is designed to impart real-life experience, best practices, and sound advice in the areas most important to a manager's day-to-day role.
LG 201 is a five-course (15-session) online certificate program, designed to help new and mid-career managers, assistant managers, and even career-changers new to local government, go beyond the basics and gain a deeper understanding of key focus areas in local government management. This interactive certificate program is taught by a team of seasoned local government managers and experts, and moves beyond theory and focuses on sharing experiences of how the job actually gets done. Topics include effective communication, public safety, building community, organizational development, and leadership.