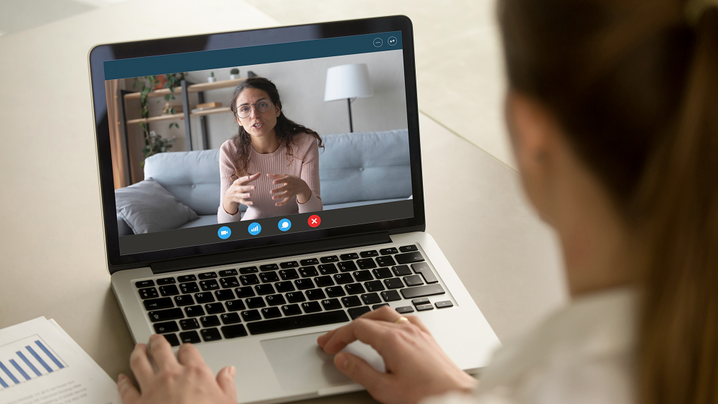 In March, a large number of municipal employees found themselves exiled to their homes, many with laptops in hand, suddenly required to perform the bulk of their duties from a remote location. As shelter-in-place days turned to weeks and now as we enter month three, keeping staff engaged and productive is posing a new, challenging communication and work environment.
All communities have some employees whose traditional job responsibilities do not lend themselves to off-site work or may not possess the technology skills required to work remotely. This can potentially raise questions about fairness and equity in terms of compensated time.  Conversely, there are communities that have found themselves limited in assigning work because of the lack of equipment or connectivity availability.
Other employees may be willing to work but can't because they have underlying health conditions or other at-risk factors that restrict or limit job duties. The concept of change is always easy for some and a struggle for others. Remote work is no different. Some individuals will adapt to the new norm seamlessly, while for others it will continue to be an uphill battle.
It is a balancing act and recognizing this, some managers have engaged employees in innovative and creative ways by assigning meaningful tasks that aid in service delivery, increase knowledge and abilities, maintain productivity or provide a sense of ongoing contribution to the organization. As this pandemic continues, efforts such as these can guard against perceptions by some that working remotely lends itself to a more relaxed atmosphere and thus less productivity and work product. Right now, the evidence suggests the opposite has been true. As Nancy Colbert Puff, deputy city manager, in Portsmouth, New Hampshire, observes, "People have risen to the challenge, and that is so heartening."  Here is a sampling of ideas that local governments have employed to keep employees engaged and involved:
Ardsley, New York (Meredith Robson, village administrator), has a group of employee volunteers who shop for people who require assistance. According to Meredith, "Staff have been absolutely wonderful and are pulling together to do whatever needs to be done, even when it's not technically within their job description."
Multiple communities report using this time to assign online training for certifications, skills improvement or professional development. Portsmouth, New Hampshire (Karen Conard, city manager), has employees undergoing advanced training in Microsoft Office tools – all offered online through the library.  Library staff also have been doing direct training with Skype, Zoom, and other platforms. Now may be a great time to refresh staff skills in those areas.  Don't discount free resources such as webinars, tutorials, or online classes that may be available on a county, state, or national level, as well as through professional associations. 
Virtual staff conversations and training can also be used to further organizational goals. Asheville, North Carolina (Ashley Traynum-Carson, communications specialist via ICMA Connect), conducted "Race the Power of an Illusion," a three-part series about advancing racial equity that included a reading, film, and reflection. 
Review, update, prepare. Another option for remote staff is to begin work on long-term projects or those that were on the back burner, such as master plan updates, research required for grant applications or data gathering for annual reports. Tavares, Florida (Scott Aldrich, community service project manager, via ICMA Connect), reports that one of the things his community is doing is to focus on the future. Examples range from revising the business plan to compiling a five-year budget, to getting a head start on the next master plan update or downtown development plan.
An inspired idea comes from Georgetown, Texas (David Morgan, city manager and Mayra Cantu, management analyst), which created an Assistant and Research Team and assigned employees to the team along with a trained project manager. Departments were encouraged to send work projects to the research team allowing remote employees without portable work to contribute valuable work product. The departments ended up delivering more projects than the research team could handle, so the work had to be prioritized.  Research projects include researching water conservation best practices, coordinating public transportation and ride share offerings, and analyzing the city's use of software in terms of extent of use and programs used.
Now is an opportune time to cross-train staff either to assist employees in other departments with higher workloads while offices are closed or planning for the future to backfill positions as a result of long-term illness, military service, or parental leave. Matthew Watkins, township administrator, Bloomfield, New Jersey, noted that his organization was able to identify areas where only one person was able to perform a certain function and that left them vulnerable if that person was suddenly unable to work. "We fixed those holes, but it certainly made us a bit nervous for a week or two."
While many senior centers and social service departments routinely check in on their elderly and at-risk populations, the city of Biddeford, Maine (Jim Bennett, city manager), used the census list to identify all  residents over age 65 and assigned city hall remote staff to make wellness calls and assist in providing residents with any resources they might need. Similarly, the "Let's Stay Connected Program" in Pico Rivera, California (Steve Carmona, city manager, via ICMA Connect), has a free telephone reassurance program conducted by the parks and recreation department for senior center patrons 50 years of age and older, who opt into the program. The purpose is to increase the participant's social ties, provide support for resources, and check on their overall wellbeing.
Off-site staff are routinely involved in preparing and disseminating daily communications about COVID-19. Aside from social media channels, flyers on telephone poles, reverse 911, or code red calls help keep residents connected. Boston, Massachusetts, deploys a sound truck that travels to neighborhoods with important information about services and resources in seven languages. Amherst, Massachusetts, communications director Brianna Sunryd coordinates a weekly call-in Zoom chat from her home with a subject expert on some aspect of COVID-19 hosted by town manager Paul Bockelman. The intent is to answer questions, provide factual, real-time information, and ease resident concerns.
Municipal libraries, along with park and recreation departments, have certainly stepped up during this time and have been especially productive and creative in developing virtual programming and activities for all members of the community. In Windsor, Connecticut (Scott Colby, assistant town manager), library staff hosted a virtual escape room, story times, and science and gadget experiments. The recreation department has created a virtual services site with virtual bingo, cooking, and fitness classes. Other communities have performed puppet shows and staff, including some town officials have recorded book readings.  In addition to making wellness calls, Isley Library staff in Middlebury, Vermont (Kathleen Ramsey, town manager), created an unemployment claimant's resource page on its website and is offering support in the unemployment claims process. In a similar vein, Erie County, New York, now lists job openings on its website from local employers who are expanding hiring during the pandemic.
Sunderland, Massachusetts (Geoffrey Kravitz, town administrator), has created a COVID-19 history program curated by library staff for residents to create a living archive of what they are thinking and experiencing during this pandemic that the community will keep as an historical record.
Many communities report remote staff assisting with personal protective equipment (PPE) by making masks across all departments. Nonpublic safety staff and other city departments in Hayward, California (Maria Hurtado, assistant city manager), made masks for local workers at essential businesses.  Remote civilian staff also answer nonemergency calls from home and other activities that enable them to still be part of the team. Along these same lines, library staff in Portsmouth, New Hampshire, have been manufacturing 3D-printed face mask headbands for distribution.
For additional information, visit ICMA's Coronavirus Resource page.
New, Reduced Membership Dues
A new, reduced dues rate is available for CAOs/ACAOs, along with additional discounts for those in smaller communities, has been implemented. Learn more and be sure to join or renew today!