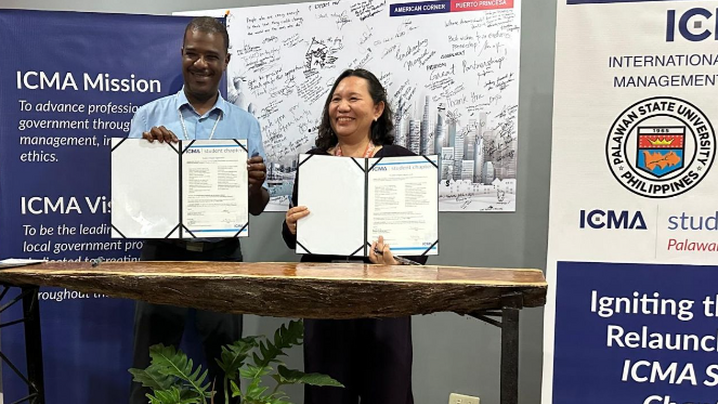 While ICMA Executive Board members and staff traveled to the Philippines in March, they met with Philippine student chapters at Holy Name University (HNU) and Palawan State University (PSU). The delegation, including ICMA Past President Troy Brown, attended the PSU program, "Igniting the Flame: Relaunching the ICMA Student Chapter at Palawan State University," that included a welcome from University President Dr. Ramon Docto, a presentation by ICMA staff, and a ceremonial student agreement signing with Brown.  
"[This] will open doors for learning opportunities to our students and faculty and staff. Our young leaders will be trained for effective leadership while also promoting the public interest," said Dr. Marjorie Española, PSU vice president for research and extension. 
The event showcased the excitement for learning opportunities and engagement that the reignited student chapter would bring to the university's students, faculty, and staff. PSU's chapter is one of 11 in the Philippines and is eager to access the global network to share information to learn from one another. 
A Next Generation Initiative 
ICMA created student chapters in 2010 as a part of its Next Generation strategies with the goal to introduce and integrate students into the local government management profession and familiarize them with members, resources, and the ICMA Code of Ethics. Student chapters are student-focused and student-led with support from faculty. They develop their charter, hold regular meetings, engage guest presenters, produce an annual report, and engage with other chapters. 
Today, ICMA supports 140 student chapters, including 17 international chapters, and continues to increase efforts to engage student chapters internationally by re-establishing relationships with partner universities, creating new university partnerships, increasing international engagement on committees, and providing more knowledge-sharing opportunities. ICMA aims to increase the number of international student chapters and reignite the flame of existing partnerships, like PSU.  
Forming Student Chapters 
Student chapters like PSU's are zero-cost opportunities that provide future local government leaders numerous benefits, such as unlimited ICMA student memberships and access to ICMA CoachConnect, webinars and professional development, and member-only resources.  
The ICMA Student Chapter Toolkit provides practical guidance on how to start and support a student chapter, outlining the key phases, everything from establishing the chapter to strategies for maintaining it. The toolkit also provides tips, templates, and best practices for a successful student chapter. 
Creating an ICMA student chapter is easy. The university must enter into an agreement with ICMA, submit a charter, and acquire the following items: 
A student leader who will serve as the main contact for the chapter (usually a chapter president). 
A faculty advisor (usually a professor in the program, the program director, or another school official). 
A practitioner in the profession, a local government professional in the area (ideally an ICMA member, international member, or affiliate member interested in shared responsibility for the success of the chapter). 
Student Chapter Success 
The natural flow of students in and out of universities and programs can make it difficult to maintain a chapter's momentum. Participation may vary with each semester due to the progression of students within their educational journey or faculty changes. However, with strategy and dedication, student chapters can remain a fun and important piece of a student's path to a management role in local government.  
Here are some tips for launching or reigniting your student chapter: 
Reimagine 
Revisit or redevelop your chapter's charter and bylaws. Often chapters crumble at their foundations. Changing the chapter's core documents can make all the difference in the world; it's a great place to start. 
Although only a president is required, creating or reimagining an ICMA student chapter board is a good idea. Collaborative leadership distributes responsibilities and creates more buy-in.  
Refocus 
Create or update your strategic plan. Set goals that will push your chapter and encourage growth. 
Be sure the plan will get the chapter through at least one leadership transition. It will help guide the next board and give them time to get in the swing of things before they must develop a plan. 
Reconnect  
Program and chapter alums can be great resources for you. Reach out to them and let them know you welcome any help they are willing to offer.  
Note: Using alums as event speakers is an excellent way to engage them and mitigate costs for the chapter.   
Reach out to your state association. Why wait on them to reach out to you? These organizations are great resources for funding, partnerships, scholarships, ideas, and more.
Reenergize 
Use topics and issues discussed in your classes as themes for panels and other events. This is a foolproof way to get support from students in your program who are not chapter members. It is also a way to entice them to join.   
Don't be afraid of the more traditional student organization events. Study sessions, resume reviews, and panels work. Don't be afraid to organize these events with or without your chapter's spin. For example, you could create your own study session trivia night at your local brewery. 
For more information on student chapters, email Erika Cooper at ecooper@icma.org.  
New, Reduced Membership Dues
A new, reduced dues rate is available for CAOs/ACAOs, along with additional discounts for those in smaller communities, has been implemented. Learn more and be sure to join or renew today!