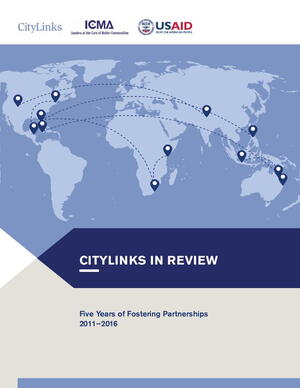 The CityLinks™ model was designed by ICMA as a way to enable municipal officials in developing and decentralizing countries to draw on the resources of their international counterparts to find sustainable solutions tailored to the real needs of their cities. 
The 2011-2016 program addressed three major challenges, seeking to:
Improve climate-related governance and systems in targeted urban areas
Increase resiliency of cities in Feed the Future focus countries
Improve water supply and sanitation access in urban communities in Global Health Initiative countries.
CityLinks in Review provides a look back at the most recent five year program, detailing its pilot projects and the resources developed.