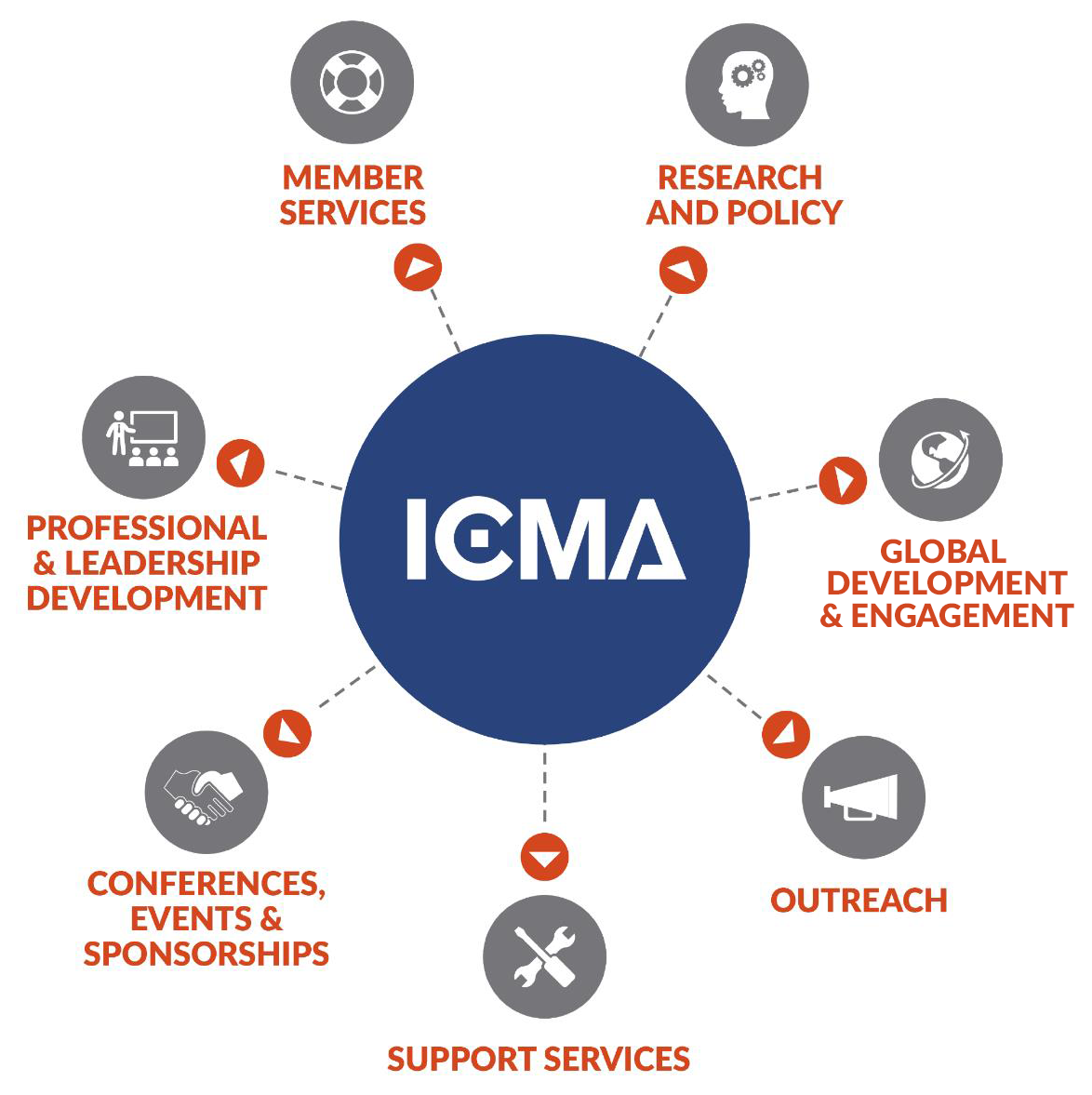 Core Activities
ADVOCACY
ICMA advances good governance by supporting and advocating for communities that understand the value of professional local government management. We also represent local government concerns in the public policy arena.
ANNUAL CONFERENCE
Since 1914, ICMA has sponsored an annual conference that enables local government managers and their staffs to network, discuss key management issues, review major local government developments, adopt policy statements, and conduct association business.
ETHICS EDUCATION AND TRAINING
Equity, transparency, honor, integrity, commitment, and stewardship are standards for excellence in democratic local governance. ICMA promotes such ethical conduct through its Code of Ethics, training for local governments, publications on ethics issues, technical assistance, and advice to members.
RESEARCH
ICMA has gathered more data on local government than any organization except the federal government. ICMA's research topics span a broad spectrum from economic development to local government innovation. Longitudinal data are available from surveys that are conducted on a regular schedule. ICMA's database of local governments includes all cities, towns, townships, villages, and boroughs with a population of 2,500 or greater and all counties.
PUBLICATIONS
ICMA publishes textbooks, practitioner books, reports, survey research, training materials, and other resources used by local government management professionals, municipal and county associations, and colleges and universities.
LEADERSHIP & PROFESSIONAL DEVELOPMENT
ICMA fulfills its commitment to continuing education and lifelong learning by offering conferences, workshops, and other learning opportunities through the ICMA University. These offerings focus on improving the skills of local government senior executives and their staffs in areas such as local government leadership, performance measurement, planning, public safety management, finance, community decision-making.
All programs are drawn from the 14 core competencies that members have determined are essential to local government leadership and management.
GLOBAL PROGRAMS
ICMA consults, trains and collaborates with local governments around the world to help strengthen communities and implement sound, innovative management and leadership practices in local governments, national ministries, academia, nongovernmental organizations and civil society groups in developing and decentralizing countries as well as in the U.S. Working with Federal Government Agencies, Foundations, and other partners, we have completed more than 500 projects in more than 70 countries.