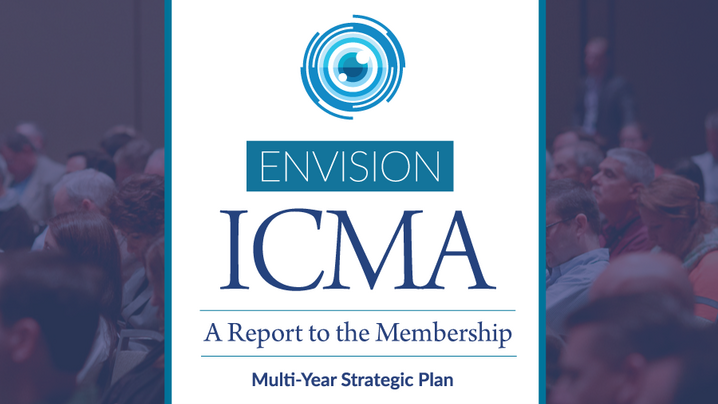 Update
Check out all of the annual updates to the strategic plan.
Download the Report to Membership
Mission
To advance professional local government through leadership, management, innovation, and ethics.
Vision
To be the leading association of local government professionals dedicated to creating and sustaining thriving communities throughout the world.
ICMA Core Beliefs - We Believe In
Public Service:including the stewardship of democratic principles and the efficient and transparent use of public resources
Ethics:as the core of professionalism in local government leadership and management as outlined in the ICMA Code of Ethics
Council-Manager Form of Government and Professional Management:as the preferred local government structure
Equity and Inclusion:ensuring that local governments are inclusive and mirror the diversity in communities
The Continuous Pursuit of Excellence:including professional development, life-long learning, networking, capacity building, knowledge sharing, and engagement
Stewardship:balancing resources including people, financial, social capital, and environmental so that communities are better than we found them
Leadership:developing leadership capacity and attracting and developing future generations of leaders.
Strategic Initiatives: Advancing the priorities of Envision ICMA
Member Benefits and Growth
ICMA will maintain an organizational priority to grow and retain a network of connected professionals around the world; will offer increased opportunities and resources that encourage local governments to hire people of diverse backgrounds; and provide support for all career stages, globally.
Learning Community
ICMA will strengthen its global presence with international affiliates and through its program offerings;deliver learning opportunities to help professionals do their jobs well and stay updated on skills they need to succeed and grow; and develop a mechanism for mutual exchange of best practices to provide members with opportunities to engage, learn, and expand their skills to meet challenges faced by their communities.
Thought Leadership and Resource Network
ICMA will represent the interests of local government in public policy discussions; design and deliver resources andleadership and professional development programs that prepare members to address the important trends, drivers, and issues affecting their communities; and capitalize on all forms ofcontent and delivery methods to reach audiences, no matter their location.
Advocacy and Outreach
ICMA will engage with the next generation of professionals managers and promote the value of the profession by expanding outreach; leverage technology to meet the varying content needs of members and stakeholders; and continue to provide the tools members need to supercharge their job searches and their careers.
Governance and Operations
ICMA will streamline internal processes to ensure compliance with policies, increase efficiency, and minimize financial and legal risks; attract and retain outstanding, motivated, and diverse staff; ensure that governance practices align with organizationalgoals and beliefs; and continue to support a range of viable business lines to diversifythe Association's revenue streams.